As many of you may or may not know, Mark, Peyton and I are getting ready to head out on a year long adventure! We are really getting excited! My previous two blogs have been a basic outline preview to what we are planning to do. This blog will be a more in depth look at not only what we are planning on, but how you can help us. We really want to be able to make a difference, and realize in order to do that we need to work with others. This journey is not only about raising awareness of the high unemployment rate among autistic people, but to help offer some solutions. I am a big believer that problems only stay problems, when we don't address them head on.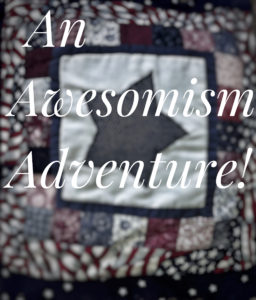 I am calling this adventure "The Awesomism Quilt" my goal is to take everyone's Awesomism stories both good and bad,and weave them together to form a beautiful "masterpiece". Some of my favorite quilts are those that have pieces of fabrics that have a story attached to them. I had a family member who handmade quilts, she would use pieces of fabric that came from baby blankets, clothes, pillows etc..when I would look at the finished product,I felt an attachment to the quilt, as it became a "fabric picture" of special moments to me. Just like those quilts, I want this adventure to be filled with special moments that others can look at and feel an attachment. This is bigger than any one entity or group can handle. This is about helping so many others create a positive future for themselves and others.
HOW YOU CAN HELP:
There are many ways but these are the most important:
•We are looking for Sponsors..We would love to work with small businesses as well as National brands. If you are interested, or know someone who would be, please reach out and I will send you our sponsorship information, as well as a specific plan on how we can work together.
•If you are an individual and support our cause and want to be a sponsor, you can support us through PayPal….Lynne@AwesomismMom.com if you don't have paypal, please reach out and we can work it out.
•We are looking for Awesomism stories, if you know of someone who has an awesome story to share, please reach out. We are interested in both positive and negative employment stories, as well as stories from those struggling to find work.
•We are looking for both individuals and businesses that are looking to sponsor both round tables and 'meet and greets'. When we come together and discuss issues, we can come to solutions. If you are interested, please reach out.
•We are looking for venues to connect with others and spread our mission..such as groups, businesses, organizations where we can share.
•We are looking for businesses, that are either already hiring autistic adults or are interested in hiring.
•We are looking for ways to help spread our mission, such as podcast, radio spots, Social media etc…please reach out if you would be interested in doing an interview.
•We are looking for suggestions on towns and cities to head to also!
We would really love your support, and we look forward to connecting!
Together we can turn Autism into Awesomism!