This is a long overdue thank you and shout out to the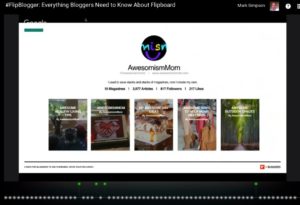 Flipblogger webcast which featured in their slides our Awesomism Mom Flipboard magazine,
as well as another  near to my heart collaboration with Janette Speyer enti
tled The
ABC's of Living on This Planet. We were very honored to be mentioned during this presentation, which you can view here.
The webcast was hosted by Jessica Rosenberg of  itsjessicaslife.com and Jenn de La Vega of Flipboard. Flipboard is making a concerted effort to reach out to the blogging community and promote Flipboard as another tool to extend the reach of your blog. This is something we have known and practiced from day 1 of our blog. We proudly display the 'Flip' icons and embed our magazines prominently on the site.
I have been a fan of Flipboard since Day 1 when I first viewed it on the iPad. Only later did learn the full power of it while participating in a twitter chat entitled #FlipboardChat (Every Wednesday from 9-10PM CDT). I showed Lynne how to use it and she found it to be the perfect platform for saving (curating) articles in the ever evolving world of autism. We both have many other magazines devoted to our passions and collaborate with others on many. That means that someone like Janette in California can contribute content to the magazine also.
So another Big Thank You to Flipboard and Flipblogger for noticing us yet again. It means a lot. And we Love Flipboard and will continue to spread the word to our blogging community on just how much it has helped us grow. Flipboard has allowed us a unique and important venue to not only post our blogs, but a way for us to have it in a "magazine" content in which we can add pertinent information. We can add other blogs as well as content that backs up what we are discussing. A great example of this is with our Human Touch massage chair. We are working with them on spreading the importance of massage for Peyton and other autistic teens. By having our blog in our Autism flipboard magazines, it allows us to have pertinent articles posted in the same magazine. We have gathered therapy articles, proper music and more and inserted it with the blog. We also can put the blog into other magazines that are relevant to the topic, such as "Awesome ways for Mom's to destress" as well as  "Stress Relief" this helps us connect our Autism experiences, to so many other facets of life. By doing this those who do not live with the experiences many of us in the Autism community do, can see how it affects every part of someone's life, thus making stronger understanding.
Flipboard can and will change many lives and having the luxury of blogging, enhances those experiences even more. If you have not checked out flipboard we strongly urge you to. We think you will this to be a great tool for so many day to day topics, as well as a great educational tool. If you,like us, are an Autism family, you will find flipboard to be an awesome tool in so many ways you may have not even thought of. We would love to connect with you and discuss.