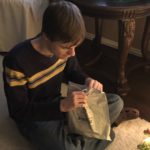 I wanted to share this video… some of you have already seen this… If you follow me on Instagram and or Twitter I know you've seen this.
I wanted to share it again, because I think this video is really a wonderful representative of what the  Holiday Season is all about.
It truly is about making others feel good… Giving… Sharing… Caring… Spreading love… Spreading kindness and doing the little things… You know the little random acts of kindness, that may not seem like such a big deal but to some mean everything.
Freddie Stevenson played football for the Florida State Seminoles… Seminoles are our favorite College football team.
He also went to the Chicago Bears! the Chicago Bears are our favorite NFL team!
Freddie already had a special place in our hearts. After he did this for Peyton… I can tell you Freddie has a very special place in all of our hearts.
His act of kindness, meant so much to Peyton and to the rest of us! I hope if you watch this video… it inspires each and everyone of you to do a random act of kindness!
Let's spread the Christmas love! Let's also make a it a goal to spread it throughout the whole year!
I hope everyone has a very merry Christmas and very happy holidays and happy Hanukkah!
I know it seems cliche to say, but it's really true… together we are better…. together we are stronger!
As always thanks for reading my blog during our 45 Awesomism days of the holidays.
"talk" to you soon!