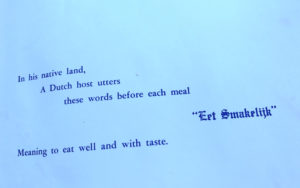 I absolutely love a true Dutch apple pie.. it is one of my favorite desserts… My oldest son is obsessed with it as I am! My other kids really love it too, but he and I absolutely could eat it every day!
I got this recipe from a Dutch cookbook that I've had for years and years is so worn parts of falling off it is full of "Food samplings" 😂😂 but it is by far my favorite cookbook… It is full of good Dutch recipes…
This is a great recipe for Thanksgiving… in all the years that I've been making this, there's only been maybe one or two people that didn't think it was absolutely awesome. It's easy to make, and it tastes absolutely delicious and is a great addition to any Thanksgiving dinner, or event over the holidays.
Dutch apple pie
9 inch pastry shell, unbaked
Filling:
5-6 tart apples, sliced
3/4 cup sugar
1 tsp cinnamon
2/3 cup flour
1/2 cup brown sugar
1/3 cup margarine
Preheat oven to 425°. Combine apples, sugar and cinnamon and placed in pie shell. Mix flour, brown sugar and margarine until crumbly. Sprinkle over apples and bake for 15 minutes. Reduce heat to 375 and bake 35 minutes more.
When you go to take it out of the oven, the top will look so bubbly and the brown sugar will almost have a caramel like look to it… I absolutely love this recipe it reminds me a lot of an amazing apple cobbler, only with a better topping.
I sometimes serve mine in a bowl with ice cream on top… This pie is not only absolutely awesome when it's fresh out of the oven, but it's also even exceptionally good reheated. I've even eaten it without heating it up again.
Another thing that I've done is double up on the amount of the apples, cinnamon and the sugar… And added a little bit of brown sugar and to it put that aside… And at a later time I've used that mixture in a cast iron skillet and made fried apples with it. This is also a great side dish, especially over the holidays with ham and mac & cheese.
I hope you enjoy this recipe as much as we do, and if you bake one… please send me your feedback as-well as a picture! I always love getting feedback on recipes…
As always, thanks for reading my blog! hope everyone is having a wonderful holiday season.. please feel free to share with your friends, family and others on social media!
Thanks for following our 45 Awesomism Days of the Holidays
"See" you tomorrow!