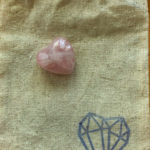 A while back I came across a twitter account called Patti and Ricky. Here is their description from their twitter and website "PATTI + RICKY is an online shopping experience that offers stylish and functional designer products for individuals with disAbilities." I was immediately interested in learning more about them. I looked at their website and was really impressed. You know how we hear the expression "find a need and fill it" Alex did this.. she did it in an awesome way. Her products fill needs in the special needs communities, but in a unique and positive way. I retweeted her and she immediately thanked me. Her thanks went a long way with me. It showed me how passionate she was about her business. Alex and I connected on DM and then on the phone. I was so impressed with her passion, excitement and knowledge. Her goals are from her heart,and I knew I wanted to work with her.
We decided on the call, that we were going to find a way to "work together" I explained to her that before I "endorse" any product I have to try them. I also let her know that if I don't like items I will say so. Alex not only understood, but agreed with me. She asked what products from her site Peyton and I would be interested in trying. I told her I'd leave that up to her. She asked me a few questions and figured out what products to send to us! A couple of weeks later a box arrived! Peyton and I were super excited to see what we received.
In the box were the following items: Lavender roller, Headache roller, Willpower roller and Calm Spray, all made by Open Heart Apothecary! The box also included a beautiful pink crystal heart! I love all the products and can honestly say they work very well, but this isn't just about me… so the next paragraph has been written by Peyton on what he thinks of the products!
My mom asked me to write an honest review of products we got from Patti and Ricky. Here is my review:
We use Calm spray which has 100% pure lavender oil, sweet orange, frankincense and Roman chamomile, on my pillow to relax me at night. Like the spray, the lavender roller has 100% oil of lavender and jojoba oil, I love both of them.
Couple weeks ago, I had a bad cold for a while, I had a stuffy nose, a sore throat and I was coughing in which I couldn't sleep well at night because my nose was stuffed up and I was coughing. The best way for me to get rid of the head cold was to sleep a lot. I to slept with my comfort blanket that I just got from a company called Cmfrt,  and I sat on my Human Touch massage chair, both of them helped me sleep better .
My mom used the calm spray on my pillow and lavender roller on my wrists, temples and under my nose, it really worked, it relaxed me!
I will keep using calm and lavender on me until they're gone, because I don't always sleep well! The one day I had a bad headache from my cold and I didn't feel good, so I used the headache roller and the willpower one. The headache one has peppermint, clary, sage, lavender with jojoba oil, grape seed and apricot kernel oils, all are 100% pure! The Willpower has grapefruit, fennel and Roman Chamomile in jojoba oil, all 100% natural.  I only do natural, so it was great having these, because they really helped! I hope everyone tries their products because we really love them!
Peyton and I are big fans of Patti and Ricky and we truly hope you will be too! Here's their website. Please check it out! Support a great small business and a great cause. Peyton and I want to thank you for reading our blog