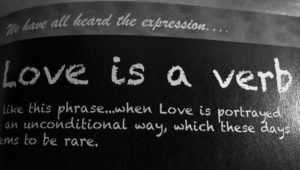 Love is a verb… I love this phrase when love is portrayed in an unconditional way, these days it seems to be rare!
Love is something we really tend to reflect on during the Holidays season!
Almost all parents will and should tell you that they love their kids unconditionally. That is what gets you through the rough patches. All parents go through tough times, but many in the autism community go through rough patches much more often. This can be very tough, especially when a parent is a single parent. Most often they don't have a break from the stress. Their unconditional love is truly tested. I think one of the hardest parts for some parents is that the love isn't given back always.
Not all autistic kids share the emotion, no connection of love, however; many do… it isn't true that most don't show Love…
That said I consider myself lucky. Peyton says he loves me and shows love. He loves others as well, and for this I am so thankful. I can't imagine how hard it must be to never hear the words I love you from my children. Although, Peyton says it and means it I cherish it in a way I can't describe.
I love all my kids the same, but Peyton has a special place in my heart. One of my greatest joys is seeing how much my older kids truly love Peyton unconditionally. They celebrate his positives and hurt when he hurts. Life isn't always easy for any of us, but for Peyton it's tougher, But I also know that with mine, marks and my older kids unconditional love he will be just fine.
Love can be shown in so many different ways… it isn't always just by saying it. It can be by doing even the smallest gestures…
In our home we believe in the saying "love is a verb" and we live it! I would love to hear from you… You're awesome stories about how love is a verb in your life.
As always, thank you so much for reading my blog…
Hope you are enjoying our 45 Awesomism Days of the Holidays!
Have an awesome day