I thought since we are doing the 45 Awesomism Days of the Holidays… and it is Throwback Thursday…. what better time than now to bring out this blog from 4 years ago! The Holidays are a time that we reflect on the things that we are thankful for… People we love… and what unites us! I think this blog is truly a great example of all those things. Every once in awhile someone comes into your life, that truly makes a difference. Everett Dawkins is one such person. I hope you enjoy this blog… and as always, thanks for reading and Hope everyone has an awesome day!
I'm 16, I'm autistic, and I love sports. 2 of my most favorite sports are Football and Basketball.
My favorite teams in NFL are Chicago Bears, Dallas Cowboys and Tampa Bay Buccaneers. My favorite teams in NBA are Chicago Bulls, Dallas Mavericks, Orlando Magic and Golden State Warriors. My favorite Colleges are Florida State Seminoles and Texas A&M Aggies.
I always cheer for FSU because all of my family are FSU fans. My cousins, Troy and Jodie both went to FSU. I cheer for Texas A&M because that's where my stepdad, Mark got his master's
degree. I do sometimes cheer for TCU because Mark's dad went there.
My favorite team is FSU football, I am very lucky because I have a buddy who went to FSU. He played football for FSU and later became a pro and played for several teams in NFL, Everett Dawkins, also known as Big E. We call him Big E because he is huge and hard as a rock. He talks to me on E-mail, text messages and Twitter. He always remembers my Birthday, and that means a lot to me.
I also know Daniel Glauser, who also went to FSU and played football. He also follows and talks to me on Twitter, he is my friend. Both Everett and Daniel are very nice and they would never treat me like I'm autistic.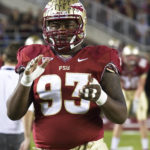 Although, I don't have many friends because I'm autistic, and I don't talk very well, but Everett thinks I'm cool, and he really cares about me. Everett teaches himself how to become a better player in Football. Everett started the foundation called Underdog Kids.
I am currently working on a book for it, and it's about what is like to be an underdog. The book is also about me and my youth group when we went bowling.
Everett makes me feel safe, and he is like a big brother to me. Everett teaches me that it's okay to be different and to be an underdog. He encourages me to exercise because I needed to get stronger and have more energy.
On October 5th, I went to the Fall Festival, and I won the medal for the horse race, because I ran fast, I've been exercising for a year so that I have more energy. Everett taught me that I may not be great at talking or sports, but I matter.
I love Everett because he makes me feel like I can do anything, even though I am autistic. Many people want to be friends with him, because he plays football and is so nice, but he chooses to be friends with me.
When something good happens and I tell him, he always makes a big deal out of it. I am so happy he chose to be friends with me and my family!
I'm glad he started the Underdog Kids because it will help kids feel better about themselves. I hope that it becomes really big so lots of kids can get support. I wish more Sport stars were so nice and cared about Autism and would help autistic kids. I am so glad Everett does, because he made a big difference in my life.