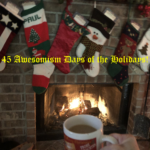 We are super excited to be doing the 45 Awesomism days of the holidays!
As I have discussed in previous blogs… I have GAD, general anxiety disorder… And Peyton is as everyone knows well…  is autistic.
The holidays can be very stressful for everyone, but it can be particularly stressful for those who suffer with anxiety.
Nowadays… The stores start decorating for the holidays and pushing Christmas and Thanksgiving already in July… I kid you not, Peyton and I were in a store in July and they were taking down their Fourth of July items and putting up Christmas already!!
That can really add to the stress and anxiety of the holidays, because it seems like as it comes sooner and sooner it gets more and more in your head about the holidays.
I absolutely love Christmas! It is my favorite holiday… I have always really decorated every house I've ever owned to the max… Peyton loves Christmas as well, and as I get older.. I get less and less inspired to do all kinds of decorating.. dragging all the boxes out of the attic… Although we call ours a Texas basement because it is a walk-able attic, so it's not as difficult… But dragging everything down, scrubbing down the house.. putting everything that was Up away and then putting up all the Christmas decorations takes a lot of work!
However; to see Peyton's face be so happy and so excited, it's all worth it to me!
I decided that this year I was going to do a 45 day long blog/video/pictures/craft/ideas/recipes/tips on my Website!.We will have everything in one place on our website… Also, we will have a dedicated Flipboard Magazine, A dedicated Pinterest Board… we will be having daily items on Twitter, Instagram and Linkedin!
I'm by no means an expert on helping lower your anxiety and/ or your stress… but I do know that with me, when I see tips that I can use, such as other peoples ideas.. it really does take a certain amount of the anxiety out of my life… So that's what I'm hoping to do here! Just inspire people and help maybe lower your stress level, lower your anxiety by providing so many different things that can help you during the holiday seasons!
We will be covering Thanksgiving, Christmas Eve, Christmas, New Year's Eve and New Year's Day… as well as a few other surprises!
We have an Awesome Thanksgiving guest Blogger that you won't want to miss his heartfelt Thanksgiving Blog.
I hope you enjoy our" 45 Awesomism days of the Holidays" and please share with your friends, family and anyone else that you think might benefit from it!
If you have any tips or ideas or would love to be a guest blogger, I would love to hear from you!
As always thanks so much for reading my blog and let's get started…….. tomorrow we will start with a blog about some Thanksgiving tips
Here is a blog that I wrote a few years ago about the Stress I put on myself during the Holidays. Link: Traditions are made to be broken