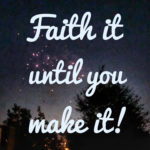 Faith it until you make it… I saw this quote a few weeks ago… And I absolutely fell in love with it. You usually hear the term fake it until you make it. I think many of us fake it until we make it to a certain degree, when we are entrepreneurs, small business owners, pursuing our dreams etc. etc. But is that what we really want to be a faker?
The more I thought about this "Faith it until you make it" the more I loved it. The more raw and real it became to me.
I think we all have different versions of what our faith, or what faith is. This blog is not a lecture about what your faith should be by definition… But more about having that positive thoughts and conviction… To stay strong while you work to fill your dreams and passions.
I happen to be a person of faith, I believe in the power of prayer, I believe in a strong inner commitment to do what is right, not only for yourself, but for others.
This is not to say that I am always perfect. I am far from perfect… I make mistakes, I've made a lot of mistakes in my life… But I try very hard to learn from them.
My dad always tried to teach me it was only a mistake if I didn't learn from it… Otherwise it was a life's lesson. I do truly try to learn from my mistakes. So let's just say I have lots and lots of life's lessons. 😂
I think nowadays, we have developed an attitude of what we want, we better have and we better have it NOW! There are times, I must admit, that I can become very disheartened with the way that we have become in society in general.
Too often I don't see people actually caring about other people, I see them talking about what they do ….what they have… how great they are.. basically faking it till they make it.
This is not to say that we should do the opposite, which is always complain… And do a "poor me" attitude, either.
Life in general can be really tough… Being a small business/entrepreneur/independent contractor can make it even tougher.
Having other issues in your life such as.. being a single parent… A child with special needs… Serious financial difficulties etc. etc. can also make being positive, a little more difficult at times.
This is why I love that saying… Faith it till you make it… Because I think when things are really rough, we have to lean on our faith! We need to reach down deep inside of us and find that Faith… Be it Faith in a higher being.. Faith in ourselves or Both!
The Definition of Faith is: ( from Oxford)
faith
1.
complete trust or confidence in someone or something.
"this restores one's faith in politicians"
2.
strong belief in God or in the doctrines of a religion, based on spiritual apprehension rather than proof.
I have made this my personal new motto…meaning when tough times come… and they always do…especially being a Mompreneur/Entrepreneur and Autism Mom… I am going to challenge myself… Faith it until I make it! Will you accept this challenge too?
Thanks for reading my blog
Have an Awesome Day!
Lynne