This blog is going to be a little different than my previous blogs. I'm going to be doing a short "interview" with Peyton  in this blog . He's the star of this blog… And when I say star I mean the star!
First let me give you a little background. Peyton graduated from high school in June of this year. He did extremely well his senior year of high school, his dad and I were very proud of him.
We sat down with him, asked him what he wanted to do this year. We wanted him to be comfortable in whatever he did. We discussed several options.
I knew he wanted to do something with computers… He's very fascinated with coding, and has taken some amazing coding classes. He wants to learn how to do apps, as well. However; what he wanted to really do with that skill set was really awesome to me.
Rather than me tell you… Here is my short "interview" with Peyton,  you can see it in his words!
1. If you could do anything, what would it be?
Be a Teenpreneur! 
I wanted  to start an online business for teens and adults, who feel like outsiders.
2. What do  you mean by outsiders?
People who don't feel like they fit in, people who have autism, anxiety, GAD, ADHD, down syndrome and other special needs.
3. What are your goals for Team Awesomism? 
I wanted it  to be a supportive community. Where people can go find friends and support, but most of all where we connect and help each other when we're going through rough times. The one thing you won't find in our community is bullies. We won't tolerate bullies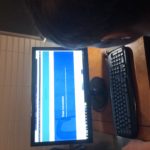 4.  What was your favorite part about building the website?
That I got to design it the way I wanted, and I learned a lot by actually doing it. I also really like that it talks about the community I'm trying to build.
5.  What do you want people to really know about Team Awesomism?
That it's a Supportive Community! That we have all kinds of member benefits. We have a private Twitter account where only members can connect, a really awesome Flipboard magazine where your blogs, pictures, write ups and so much more will be highlighted and put out to the world! I'm really excited about the Flipboard  magazine because over 140 million people read Flipboard!
I want people to know that we are a supportive community that will be there when you go through rough times. That we will have all kinds of cool videos and other learning items to help people find their comfort zone's and/ or help them with their comfort zones.
We are going to have experts like professional fisherman teach you how to fish better, and so so much more, I don't want to give away too many secrets or people won't join ha ha!
We decided to only charge the price of a cup of coffee …well maybe 2 cups, but isn't that worth it to be a part of a supportive community?
Thanks Peyton!  I know how passionate he is about making this community work! And I as his mother and just as passionate to help him make it work.
We'd love your support! Check us out at and if you're not ready to become a member yet please feel free to sign up for free email list so we can keep in contact now and then. We promise we won't overload your email box.
As always, thanks for reading her blog and all your support! And Go Team Awesomism ! https://teamawesomism.com/