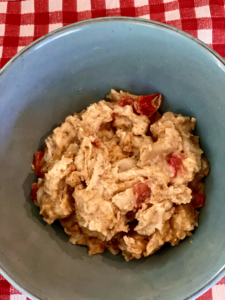 Crocktober: Taco Uppercut Mac & Cheese Recipe Is a recipe Peyton and I came up with, for an awesome event called Crocktober. We were invited to be a part of a fun YouTube event, with a several other YouTube moms.
Peyton and I mostly use our YouTube to talk about TeamAwesomism Virtual Academy, but I wanted to expand. We also are starting to use YouTube more and this was a great way to expand it.
We decided we were definitely going to be a part of this event. Part of the requirement was you had to come up with an awesome crockpot/slow cooker recipe.
Peyton and I were trying to figure out what we were going to do. We wanted to use taco uppercut seasoning from White Bulls BBQ. Peyton is the brand ambassador for the taco uppercut seasoning. Also,  On our virtual Academy, we have a class called 101 ways to use Taco uppercut.
I love comfort foods in the fall. So I thought we need to come up with this really awesome comfort food easy recipe for the slow cooker.
This way, we not only will make an amazing YouTube video and be a part of crockTober. We also will be able to use this video in this class. In addition to it being a great way to showcase Taco Uppercut Seasoning.
What is better than mac & cheese as a comfort food? I don't think there's a whole lot better. Let alone an easy Mac and Cheese that is perfect for so many people!
So we decided to kind of make it like a mac & cheese taco in your mouth. If you don't like using the Mexican blend cheese,or if you can't find it, you can use a queso cheese or any other type of cheese that you like.
The reason why we use the Mexican blend is because we wanted to really keep it that taco flavor.
Hope you enjoy! and if you would like more information on Virtual Academy please check it out here
We would love to see your recipes, and if you would like to submit some videos for the Virtual Academy, please reach out to us thank you so much!
Here are the ingredients and instructions:
Ingredients
1 pound elbow pasta uncooked
2 1/2 cups whole milk
12 ounces evaporated milk
5 cups Mexican Blend Cheese
5 Tablespoons Taco Uppercut Seasoning from White Bulls BBQ
Teaspoon Salt
2 small tomatoes chopped
4 tablespoons butter cubed
Instructions
Melt 2 Tablespoons butter in bottom of crockpot.

Add uncooked pasta to the crockpot with evaporated milk, whole milk, cheese, Taco Uppercut Seasoning and tomatoes  . Stir to combine, covering all the noodles.

Dot with cubed butter.

Cover and cook on low heat for 45 minutes . Then raise to high for 15 minutes  Remove the lid and stir.

Sauce will thicken once the lid is removed and it sits for a few minutes.
Here is a video on YouTube where we show you how we made it: Taco Uppercut Crockpot Mac & Cheese for Crocktober 2022!
Also, please follow Vickie Wright on social media, and please check out her phenomenal cooking videos on YouTube! She's one of our biggest supporters of our Virtual Academy! Also, here is the link to White Bulls BBQ use the code Awesomism10 when ordering!
As always, thank you so much for reading this! We hope you're having a fantastic Fall as much as we are! We also hope this will inspire your recipe idea!