Making of a Mom: Finding Wellness within the daily Grind, is yet another excellent blog written by one of our favorite guest bloggers..Tanya Lee! so many helpful tips… This blog outlines very important points of why and how to find wellness every day!! We really love her blogs and are so happy to share them with you!
Making of a Mom: Finding Wellness Within the Daily Grind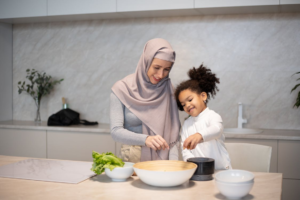 When you're juggling work, family, home, and social issues, the daily grind can begin to feel
overwhelming (especially if you have kids). Fortunately, there are always steps you can take to
improve your overall wellness and build a healthier, happier future. AwesomismMom outlines a
few here.
Healthy Eating
You are what you eat, and an overhaul of your diet can bring quick results for your mental and
physical health. If you want more energy, clarity, and focus, try a switch to fresh ingredients and
develop a recipe list that encourages balanced eating. Foods rich in Omega-3 fatty acids, dark
green leafy vegetables, nuts, seeds, and legumes are all believed to encourage healthy brain
activity. You might also want to swap out sugar-high drinks for mineral water as this can reduce
irritability and help you to focus on the tasks at hand.
Exercise
Although it might seem counterintuitive, Prevention points out that exercise is shown to give you
more energy in the long term. This in turn can help you to knock off tasks more efficiently and
clear time for self-care. Exercise is also crucial for the release of endorphins and feeling good
about the way you look. If you've been out of the game for a while, start with small steps – either a
long walk or a light jog are both good ways to get moving and can help you to get into a healthy routine.
Home Care
When you live with kids, it's not always easy to keep the house tidy but our local environments
can often reflect our mentalities and vice versa. That's why it's important to dedicate some time
throughout the week to keeping the home looking (and smelling) right. If you can't stem the tide
of kids' toys, snack wrappers, and leftover arts and crafts, Departures suggests
compartmentalizing certain rooms as 'adults only.' This will give you areas that are under your
control and can be kept pleasant.
Meditation
In a world that's moving so quickly, meditation can help slow things down and get us back to our
centers. There are a number of different meditation techniques, each with its own unique
benefits and specializations – mantra meditation, for example, stems from Buddhist and Hindu
teachings and involves the repeated chanting of a certain phrase or sound to help increase
awareness and tune into your environment.
Making a Career Change
If you're working in addition to parenting and you're finding undue stress is caused by your
career, then it might be worth considering a change in profession altogether. With the advent of
remote working, self-employment is more viable than ever. When searching for a new position,
be sure to update your resume with your latest experience and accomplishments.
It's possible to earn a degree online if you'd like to change your job and advance in your career.
For example, with an online bachelor's degree in business, you can learn skills in accounting,
business, communications, or management. Online degree programs make it easy to work full-
time and keep up with your studies. As you research the choices available, this may be a good
option, as it's both affordable, accredited, and each course only takes five weeks to complete.
Starting a Business
You may find starting your own business is both more profitable and less stressful. You can
reduce your personal liability and benefit from tax advantages by forming a limited liability
company (LLC). Formation services will help you to do this by navigating state regulations on
your behalf and saving you money on lawyer fees.
Social Life
Ultimately, people are the most important factor when it comes to our emotional well-being. If
you find yourself feeling drained just thinking about spending time with others, it may be those others
are not contributing to your life in a positive manner and you may need to reevaluate your relationships.
Remember, a few good friends are better than a hundred bad ones. Even with all our modern technology, life
remains difficult for mothers and it takes time and effort to create a routine that fulfills you. If in doubt, don't be
afraid to turn off the screens, turn up the music and tune out from the world to do something you really enjoy,
including changing careers and possibly even starting your own business.
Image by Pexels
AwesomismMom is building a Team Awesomism Virtual Academy that is focused on life skills and social skills for
autistic adults, as well as help them get stable and steady for their future. Contact us today to
learn more! lynne@awesomismmom.com