When I was growing up my parents had a summer home in Holland, Michigan. Although I must admit, we always called it a cottage. even though  it was definitely bigger than a cottage.
I love Holland, Michigan. The highlight of my year was always going up there for the summer. Our home was on the lake,we had a dock, a boat,paddle boat etc… There was so much to do.
I used to love it at night when we would have the windows open and the only sound we would hear was an occasional motorboat out on the lake. There was something very soothing about that to me. I also loved when the water was kind a rolling to the shore and you just hear it kind of hitting the beach.
My summers in Holland are some of my favorite memories from my childhood. I also loved it when my family would go up to the family cottage in Minocqua, Wisconsin. It was something very magical and safe and comforting about how it was.
Although, I was born and raised in a large city… Chicago, and I live in a large city… Houston… I truly do prefer smaller towns. I think I develop the love of them because of Holland, Michigan.
There's something very soothing and comforting to me about small towns. I've not really lived in one per say since being an adult. I've lived in suburbs of large cities primarily. I do think I'd like to retire to a smaller town though.
I'm sure you're probably wondering why I'm writing this in a  Sunday Soothing blog. The point of this blog is more about finding that comfort zone… You may not be in the situation at the time… Like I live in a big city now, but there is soothing comfort to me in the memories of being in Holland during the summer.
For me nothing represents Holland better than the lighthouse. I've always loved that lighthouse, there was just something so magical about it for me. To this day I smile every time I see a picture, think about it or look at the lighthouse statue, I have in my office.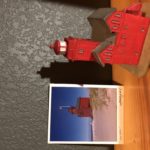 I purposely put the statue in my office so that when I do get really  stressed I can look at it. One of the things that I've really learned with my GAD… General anxiety disorder… Is when I'm starting to feel overwhelmed, I have to go to my comfort zone/happy place.
I have several comfort zone/happy places… And that's good because sometimes somethings don't destress me at the time, so I need other things.  Do you have comforting memories that bring you to your comfort zone? I'd love to hear about them.
This past week was a particularly tough week for me I had a lot going on. There are several really stressful situations I'm dealing with right now… So my comfort zone/happy places have been needed a lot this week.
I was trying to think about what I wanted to write in my Sunday soothing blog… I was sitting in the comfortable chair in my office, and I looked at my Holland lighthouse and realized how many times this week I looked at it and smiled. I knew then I needed to have my Soothing  Sunday blog… about the Holland lighthouse! 
Thanks so much to Terry Potter for allowing me to use this awesome picture of the Lighthouse… please check out her amazing photography on Flipboard https://flipboard.com/@TPorter2
As always thanks so much for reading my blog and your support!
Check out Peyton's website for more comfort zones/happyplaces. https://teamawesomism.com/