One of my favorite quotes is from Audrey Hepburn… She said "to plant a garden is to believe in tomorrow".I think this is a very true statement… A garden takes quite a bit of time, love, patience and most of all it's not something that happens overnight. We have several gardens at our  home. I think gardening is a great hobby for autistic adults… It gives them a sense of accomplishment… As well as teaches them responsibility!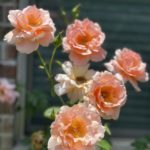 We have a rose garden… That sits right outside of our dining room windows. My husband has bought me these rosebushes, for special occasions. They mean so much to me.
Year after year each and every one of the rosebushes blooms with so many beautiful roses.
This past winter we had a very hard freeze here in Texas. I was so afraid that the roses would die, and I would have to start all over. Instead they came back better than ever.
We also have several wild flower gardens… I love having wildflowers, not only because I can cut them and put them all around my house… But because they attract beautiful butterflies and birds.
I love sitting on the back porch and watching all of the beautiful creatures fly around our beautiful flowers.
I am one of those people who really find calmness in gardens.
I love collecting old bottles, especially those that have special meaning to me… Such as one time my husband bought me some amazing syrup, and I saved  the bottle… And now it is a vase for my wildflowers.
Gardens add a lot of beauty everywhere… That's why we have places like botanical gardens… Wild flowers on the side of the road… Gardens in our backyard… Gardens can also be food gardens…
We have grown fruits and vegetables in our gardens as well! This past year we did not plant any fruit or vegetables, which was the first year since we moved into this house.
I love having both fresh fruits and vegetables from my garden. They're wonderful to cook with… Eat… And share with others.
I realize not everyone has a yard, the time or the desire to have a garden… That's why I also love the indoor gardens that you can now do. There's so many variations of gardening, such as vertical gardens, that several years ago weren't even really all that prominent.
One of the reasons why I got Peyton into gardening… Was because I really felt like it taught him some awesome life skills. He learned how to clear the land, plant the seeds… He had to read the directions on how to properly plant the seeds. He had to make sure that he weeded, watered, and if it was fruits or vegetables picked at the proper time.
He enjoys going outside with me and cutting fresh flowers, too, he enjoys putting them in vases around the house, too.
A few years ago he went and purchased all of his own seeds, with his own money… He researched all of the types of flowers that would grow best for our type of soil and weather. He carefully picked each one and planted them and had some awesome gardens… he loved that it was totally his.
I am going to be doing a four part series on gardening… that will have some tips… recipes and other ideas!
Please be sure to keep watching my blog… don't forget to sign up for my email list and follow me on all my social media accounts! Make sure to browse my website for everything I am working on!
As always Thanks so much for reading my blog… please be sure to share it and have a beautiful day!
Lynne aka AwesomismMom