My husband Mark's Cheese Enchiladas recipe is absolutely delicious! I put this recipe out 2 and 1/2 years ago… as well as put it in my book….
Once Peyton became the Taco Uppercut Brand Ambassador for White Bulls BBQ… we have been trying the Taco Uppercut seasoning on just about everything… tonight my husband, decided to add the Taco Uppercut to his Enchiladas recipe, and I have to say this was such a game changer… it put his recipe over the TOP!!! I decided to put this blog out again, and make the changes by adding Taco Uppercut to the recipe… it is absolutely delicious!!
Hope you enjoy, and please go to White Bulls BBQ site and order your seasonings now! remember to use the code Awesomism10 to get your 10% off! thanks so much for reading this blog and please share with everyone!!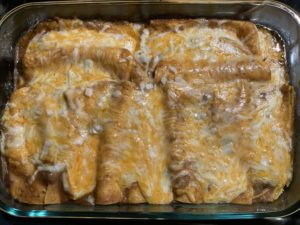 One of Peyton's favorite meals is our cheese enchiladas. This recipe Mark modified from other recipes, to make it easier and faster to prepare.
We really love making these in the fall during football and hockey season.They are easy to make,  and are great in front of the TV, food.
Next Friday we will have a really super awesome guest blogger…. it is going to be… Peyton! He's going to share with us one of his favorite breakfast recipes. It also happens to be one of the first things he learned to make, when he learn to cook so make sure you follow us on https://teamawesomism.com/
3 tablespoons oil
2 tablespoon of taco uppercut seasoning.
3 tablespoons flour
2 cups chicken broth
6 to 8 corn tortillas
Two cups (or so) shredded cheese. We like the Colby Jack blend,but other cheeses work well also it depends on individual taste.
1/2 cup finally chopped onions
Heat the oil until it shimmers and add the spices. Stir together and let cook for one minute. Add the flour and stir into mixture. Add the chicken broth and whisk to get the clumps out. Let this simmer  and thicken for eight minutes or so.
After sauce has thickened slightly, pour into container… I use a large 4 cup measuring cup. Spray the bottom of your 9X9 inch pan with cooking spray and add a small layer of the sauce to the bottom of the pan.
Heat your tortillas in between two damp paper towels in microwave for 15 to 30 seconds to make them easier to roll. Build your enchiladas by inserting about 2 tablespoons of the grated cheese into the corn tortillas roll and placed seam side down into the pan, repeat until pan is filled.
Poor remaining sauce mixture over enchiladas and sprinkle remaining cheese and onions over top. Bake at 350° for 20 minutes or until cheese is melted and gooey.
Serve with refried beans, salsa, sour cream, guacamole and Spanish rice.
If you have some sauce left over use it for other quick meals. I recommend rolling some refried beans into a flower tortilla and covering with the sauce and cheese. Makes a great quick meal on the go!
As always thanks for reading her blog! And don't forget our book is available on TeamAwesomism website in the store! … It has even more recipes, as well as other awesome tips of how to take care of yourself.…… Please check out Peyton's website… We are so proud of him being an autistic Teenpreneur small business owner!