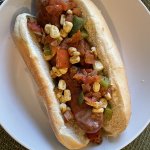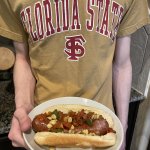 Howdy from Texas! I thought I would share Peyton's Tex Mex Recipe… a Texas version of a Chicago Dog! Being born and raised in Chicago… I think Chicago dogs are da best! Peyton considers himself a Texan… so he decided to do his version of a Chicago dog!
Chris Apple, the owner operator of White Bull's BBQ, named Peyton the brand Ambassador of Taco Uppercut!!! How awesome is that?  The Taco Uppercut seasoning can be used on other foods like enchiladas, chili, scrambled eggs, hamburgers, steaks, pasta, pizza and of course tacos!! Here are some other recipes…. Be sure to sign up for my email list and follow me on social media….
Here are the ingredients needed:
1/3 Cup Onions
Whole Green Pepper
2 Tomatoes
1/3 Cup Corn (optional)
1/2 Teaspoon of Lime juice
1/4 Cup Chopped Pickles
1 Tablespoon White Bulls BBQ Taco Uppercut Seasoning.. more or less can be added according to your taste
Sausage
Hot dog/sausage buns
Here are 7 steps of making Tex Mex Sausage:
Chop off top of the tomatoes and green pepper
Chop the onions, tomatoes and green pepper into small pieces
Get a medium bowl out, pour in the vegetables and then mix it with taco uppercut seasonings
Mix it real well until a glaze like topping is covering all ingredients
Fry up the vegetables into a pan for about 15-20 minutes
While frying up the vegetables, cook or grill 3-5 sausages for 20-25 minutes
Put the sausages into buns and add the Tex Mex vegetables as toppings
Please check out our podcast episode with Chris Apple where we discuss with him about bringing autism awareness, acceptance and activism and me becoming a brand ambassador of taco seasonings! We've put that out on Friday! Visit the link here: About White Bull's Barbecue (with Peyton)
You should also listen to a White Bull's BBQ Friday food podcast where my I talk with Chris Apple about his company and sharing his recipes on Youtube, Instagram and TikTok.
Thanks for reading this blog! I hope this recipe will inspire you… Have a great day, y'all!
Link can also be read here: Tex Mex Sausage Recipe on Team Awesomism
Also, please take a few moments to read this very important blog… this is mine and Peyton's upcoming project…..