Peyton  loves Smoothies, which I'm really happy that he does. Mark got him in the habit of having a smoothie. Mark and I used to make the smoothies, but I encouraged Peyton into learning how to  make his own.
Before we go any further with this recipe I want to make a disclaimer… This smoothie has ingredients  in it that people may not like or may not be able to tolerate due to food allergies. Please check all the ingredients before starting! There are a couple of surprise ingredients at the end… Which can be added as extras or left out.
First time Peyton made this smoothie I wasn't sure how it was going to taste. I really thought he was just putting everything in that he liked, but didn't necessarily go together. I'm proud to say I was wrong. I love the taste of it,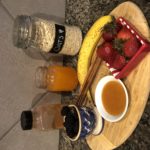 Peyton makes this smoothie recipe in the morning, and has it with an egg. It contains oats, fresh fruits… He varies the types of fruit he puts in it depending on the season and what types we buy. It also has Yogurt, fruit juice,Manuka honey, cinnamon,
He uses a blender to make sure that everything is blended well. It's actually quite an easy recipe, if you want the oats to be softer you can soak them For an hour or so before you put them in the smoothie. Rolled oats work best, but quick oats can be used.
1/4 Cup of oats
1 cup of blackberries
1 cup of yogurt (Peyton uses peach)
1 cup of sliced strawberries
1 large ripe banana
1teaspoon of cinnamon
1 tablespoon of Manuka Honey
1/2 cup of juice .. Peyton uses peach juice from peaches
*here are two extras he adds but PLEASE check for food allergies…
1 Teaspoon of  peanut butter
1 Teaspoon of crushed almonds that he soaks in the oats
Mix everything together in a blender… Peyton adds a cup of ice as well to make it really nice and cold.
Enjoy!!  Hope you enjoy this awesome smoothie as much as Peyton and I do! As always, thanks for reading my blog. Don't forget Team Awesomism  is launching on September 15!!