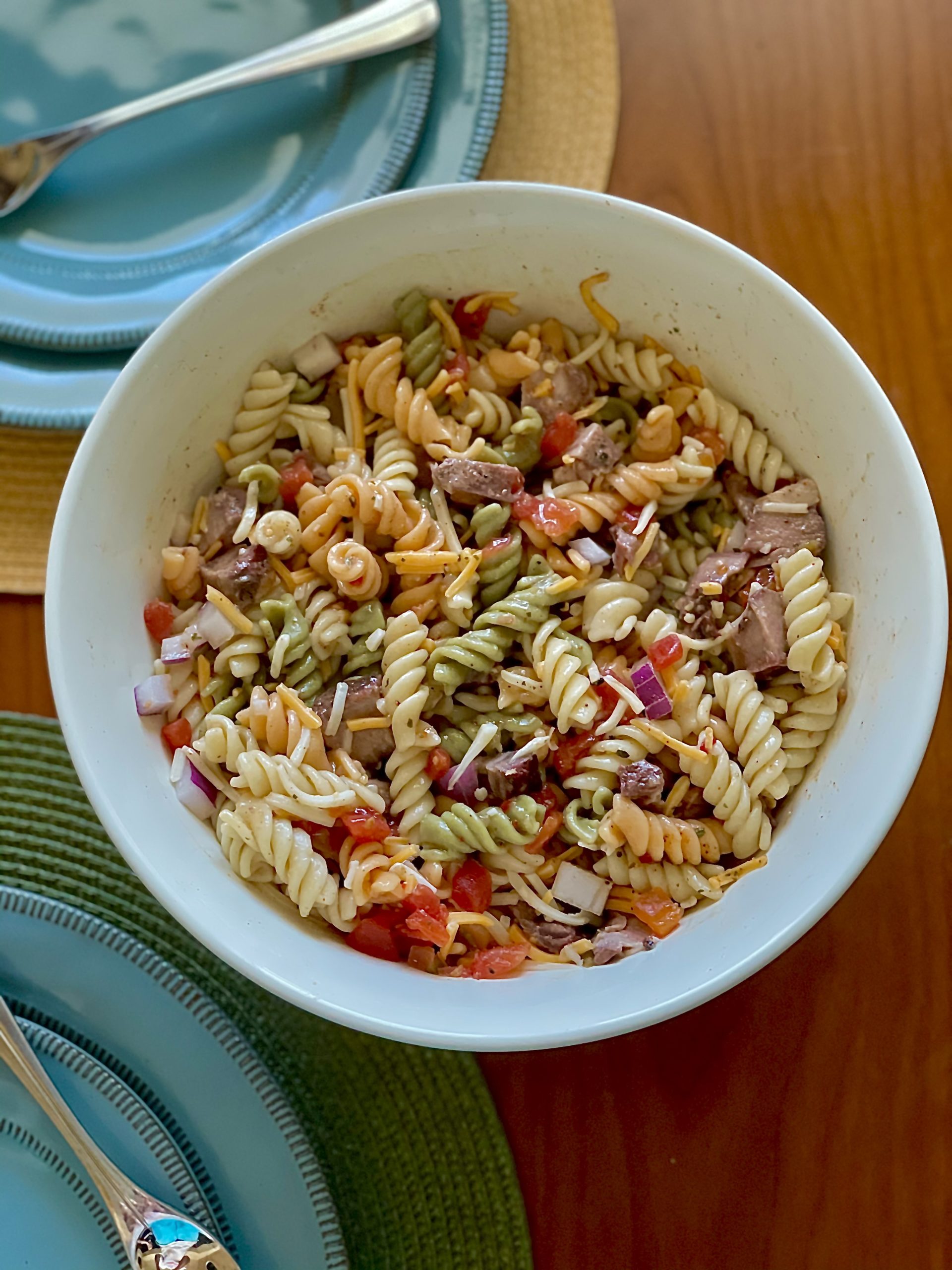 Pasta Salad!
Who's up for an awesome pasta salad recipe? Peyton and I have come up with one we think you will love!
I cannot believe it's almost the end of July already… In some states kids are getting ready to go back to school soon… I remember when my kids were young and we were getting ready to start the new school year… I homeschooled all of my children… It was always chaos for the first few weeks.
I always looked for quick and easy dinner recipes… And I especially loved those that I could have as a leftover for lunch the next day… One of the reasons why I love pasta salad so much is because I can kind of mix it up… Like it can be a side… It can be the main meal… It can even be a go to snack. I think you'll love this recipe… Because it's great for lunch, dinner or a snack… It's also… Quick and easy… Can be made the night before.
A cold pasta salad is delicious on these hot days. I decided to try and make my own recipe for a pasta salad using Taco Uppercut! It came out amazing so I decided to share it with everyone else…
I would love to have your feedback, as well any pasta salad recipes you love to make!
 4 1/2 cup dry pasta salad… boil in hot water until soft
1 10 oz can of Red Gold diced tomatoes and green chilies
1 cup meat of your choice… I use leftover steak.. but you can add salami..ham… chicken etc…
1 1/2 cups of grated cheese… your choice of cheese.. I use colby
1/2 cup onions diced
1/2 cup green pepper diced
1 tablespoon Taco Uppercut from White Bulls BBQ
1/2 cup oil and vinegar mix
After pasta is ready… combine all ingredients in a large bowl.. and mix… put in refrigerator for 2 hours and you have a refreshing salad to eat!
My cornbread recipe is a perfect side for this Pasta Salad…
I have talked about how versatile the Taco Uppercut Seasoning is, in my last several blogs… I hope by giving you all these different type of recipes you start to see just how versatile it really is! please be sure to check out all the blogs i have put out this week, for my other recipes… also, please sign up for my email list!
As always thanks for reading my blog and don't forget to follow me on all my social media!
Follow me on Twitter, Instagram, Linkedin and Clubhouse, Peyton/Team Awesomism on Twitter and Instagram, and Chris Apple/White Bull's BBQ on Twitter, Instagram, TikTok and Linkedin!
Have an awesome Day! don't forget to use the code Awesomism10 when ordering from whitebullsbbq.com.